MindMeister is a collaborative mind-mapping tool that runs inside your web browser and comes with free mobile apps for iPhone, iPad and Android devices. Being cloud-based, MindMeister is ideally suited for remote teams and freelancers working in a virtual office as it stores all their mind maps online and permits easy access for all collaborators.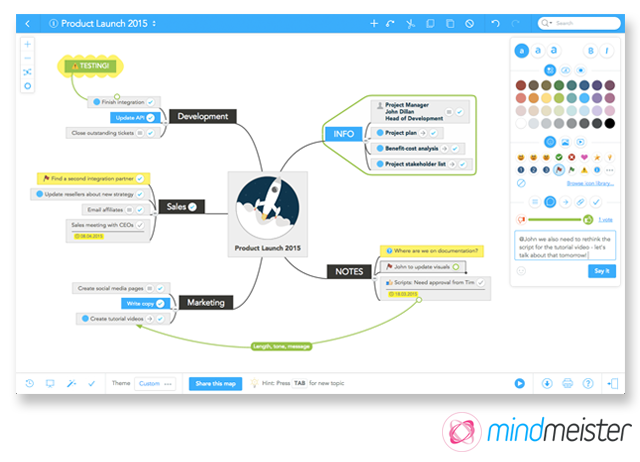 Why Mind Mapping?
A mind map is a fantastic format for project planning because it lets you visualize not only the individual tasks, issues and questions in connection with a project, but also the relations between them. Here's how to do it:
1. Create the basic mind map
Write the name of your project in the center of the map and create nodes for the main categories around it. If you're for instance planning the launch of a new product, the categories could be "Website", "Support", "Marketing" and "Sales".
2. Share your mind map with your team
Everyone invited can contribute to the map, and changes made are instantly visible to all collaborators.
3. Store and structure information
You can use your mind map as a central document where all project-related information is stored. Each topic can hold notes, links, attached files, images, votes and personal comments.
4. Define and assign tasks
Once you have a good overview of everything that needs to be done, you can assign to-dos to collaborators and even turn your mind map directly into an agile project board, using MindMeister's integration with the online task manager MeisterTask.
MindMeister on Twitter: @MindMeister
Disclosure: This is a sponsored post